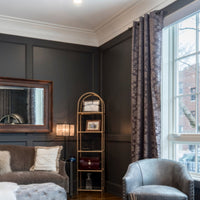 Create an Upscale Décor on a Small Scale Budget
 It isn't simply the cost of the furniture and furnishings that makes a décor upscale. Haven't we all seen those homes that are tacky and tasteless, regardless of how much money has been poured into the interior design? The next time that you are in a home that is elegant and tasteful, notice that it is the details that make the difference. The good news is that you also can use details to upgrade your own home. Try the following suggestions to add sophistication and style on a shoestring budget.
Architectural Details
 Architectural details add character to a home, giving an Old World feel to even the most modern design. Add a ceiling medallion or crown molding to a room and let your neglected, blah-white ceiling become a part of the décor.
Ceiling Medallion
 A ceiling medallion is a decorative disk that is suspended from the floor joists of the space above. You will find round, oval, square or rosette-shaped medallions. At the height of their popularity, the Victorian Era, they were made of crushingly heavy plaster. Today they are made of polyurethane, which is lighter, more affordable and easier to install, whether alone in the center of the ceiling or as an embellishment for a hanging light fixture.
How to determine the size of the medallion:
Multiply the length and width of the room to get the square footage.

Divide the square footage by 7.

The final number will be the preferred diameter of the medallion.
Image by:@ekenamillwork
Crown Molding
 A room looks unfinished without crown molding. It joins the ceiling and wall together elegantly. Crown molding goes all the way back to the Renaissance, when elements of Greek and Roman architecture were recreated in plaster and wood for private residences. Today, there are inexpensive plastic, paint-it-yourself versions, and they come in a variety of widths. To optimize the effect, choose the widest that your budget will allow.   
Flowers
Fresh flowers are luxurious—pure and simple. Pick up a bouquet or two from the supermarket. If you have a green thumb, you can slip out to the backyard to snip flowers from your garden or flowering bushes. Take a walk and trim a few branches from a tree or plant. Tall branches or long-stemmed flowers look especially chic in a floor vase. Prints of flowers work also, particularly when you position them to call attention to your live flower arrangements. The Poppies,for example, add color, simplicity and elegance. 
Hardware
Instant update! Change the knobs and hinges on kitchen cabinets, doors, dressers, nightstands, consoles and tables. Search through tag sales, flea markets, antique stores, small hardware stores, but big box stores are worth a look also. It's easy to get a unique look in only a few hours. New hardware not only changes the item itself; it changes the appearance and feeling of the whole space.
Image by: @ahouseweflipped1960
Window Treatments
Chain stores have lined draperies that appear elegant and expensive—just stick with natural materials, such as silk, linen and cotton. Not a drapery kind of person? Woven bamboo shades or wood blinds add fashion with an edge.
Many expensive homes have high ceilings. Hang your draperies as close to the ceiling as possible for the illusion of height. If you have the average 8-foot ceilings, you'll need curtains that measure 96-inches
Large Wall Hangings
It may be one large item or several items. Say you have a collection of small prints, group them together to make one large square or rectangle. Say you have a photo on your computer that you must hang. Print it out as an 8x10, add a large mat and a 16x20 frame, and, all of a sudden, the photo is that much more important. If you want a wall with that one piece of art, make sure that it is calm and streamlined. Nordic Forest Landscape is a perfect example of how a work of art can influence a décor without overwhelming the other elements.
Uncluttered Spaces
Clutter has never been and will never be chic. Declutter your home. It costs no money and you can get started today. Clutter obscures all the fine details. Have plenty of space to move around, particularly direct lines to enter and exit rooms.
Yes, we know, you love all those knickknacks that you brought back from your world travels, but they can look messy when there are too many. Besides, it makes each one difficult to see. Have a rotating gallery, perhaps changing with the seasons, so that each treasure can have its time to take its place in your interior design. It's a much more sophisticated look when beautiful art and accessories are purposefully placed.
Leave a comment (all fields required)
Comments will be approved before showing up.