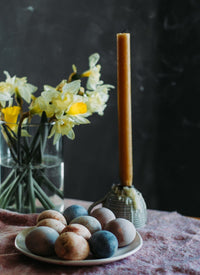 Featured image.  Alt: colorful spring flowers used as decoration
The arrival of spring, warm weather, spring blooms, and the awakening of nature are reasons enough to celebrate and rejoice in this part of the year. In our view, the best way to greet the heralds of spring is to decorate your home so that you are put into a good mood the minute you wake up and find yourself in such a pleasant environment. For this reason, we have come up with a few spring decorating ideas for your home that you can use to inspire yourself and celebrate the arrival of spring by redecorating your home!
Your front entry is the book cover to your home
You might want to commence your spring decoration from your front porch since it is the first thing your friends and family will notice when they come to visit you. First impressions are important, and the way your doorway is decorated could hint towards the decorating theme of the entire house or apartment.
This spring, you can opt for a single theme that will be introduced at your front entry. For example, you could make a poppy flower wreath to embellish your doorway, which could then be an interlude for the poppy fine art that you have in your home. Of course, you can use any animal, flower, or plant that is to your liking and that you associate with springtime!
Depending on the size of your front porch, you can even add a small resting place with chairs, a table, pillows with floral print, and pots with flowers so that you can enjoy fresh spring evenings with your friends. If you do not have a porch, you can still announce your spring theme at your doorway with a flower or a framed image depicting a spring landscape.
Create a spring theme
As we mentioned, you can play around with a theme of your choice by incorporating new and existing decorative items into your home. Keeping with a theme will help you decorate your living space as a harmonious whole.
 So, come up with a single theme that inspires you this spring. You could base your decorative choices on Japanese floral watercolor art tradition or display your love of spring by introducing yellow decorative elements accompanied by vases filled with daffodils (which are widely considered to symbolize the arrival of spring).
Although you do not have to center your spring decorating ideas for your home around flowers, having a floral-inspired theme is a lovely way to bring the spring garden feel inside your home. You can choose two different kinds of flowers and create an interesting spring color scheme.
Lovely floral bouquets are the way to go 
Placing a big, gorgeous floral bouquet into your living room or kitchen is a great way to brighten up the room with springtime energy. Obviously, this decorative piece is especially compatible with having a single floral theme. However, it is generally a very nice way to liven up your place and transition from red and green Christmas vibes to all things spring.
A beautiful floral bouquet is the perfect spring decoration for any home. Alt: a person holding a big bouquet of pink flowers
 Having an oversized floral bouquet somewhere in your home is definitely a decorative statement piece that will make your home exude the perfect spring vibe every day.
Think Green
If you are lucky enough to have a backyard, use this spring to plant flowers, trees, vegetables, and other plants in your garden! Let's face it - nothing says spring quite like the lingering scent of pollen in the air, so make sure you don't skip the garden when you start planning your spring decorating.
Thinking green should not only apply to the way your backyard and balcony look. Of course, the more plants, the merrier, especially in spring when they start to blossom, but what we also have in mind when we say that you should think green concerns how people approach decoration in general.
Having a lot of greenery in your home is a must in spring. Alt: pots with succulents on a wooden shelf
Try to reuse decoration from last year or even decor that is usually associated with a different season. You can make small adjustments to decorative pieces from previous years and, in that way, recycle and contribute to the cause by thinking about the bigger picture when you start decorating your home.
 Decorating your house is a lovely experience that brings joy to everyone who is there to experience it, but it is really not necessary to purchase entirely new decorations every single year. So, be sure to think green in every possible way!

Your living room can be the centerpiece of your home
Depending on your home's color scheme, you can play around with different colors and styles this spring. If your living room is predominantly neutral, you can introduce popping spring colors in the form of colorful flowers, drapes, paintings, vases, and other decorative items that you have at your disposal.
On the other hand, if there is a lot going on in your living room, you can tone it down with a cool-toned watercolor painting of birds or any other symbol of spring. Otherwise, if there is a color that dominates your living room, such as a burgundy couch or red accents in the form of pillows or other elements, you can make an interesting contrast by adding a large green plant that will perfectly complement the red hues in this room.
Analyze the color scheme in your living room and add decoration that will accentuate existing furniture and colors in it.
Festive holiday details to top it all off
You can combine spring decorating ideas such as daffodils and Easter eggs. Alt: daffodils in a vase next to a plate of eggs and a candle
Finally, you can think ahead and include major spring holidays as one of your spring decorating ideas for your home. Since Easter is just around the corner, adding bunnies, eggs, and baskets when the time comes is the perfect way to celebrate spring this year.
 Photos used
https://www.pexels.com/photo/crop-person-with-fresh-flower-bouquet-2879814/
https://www.pexels.com/photo/painted-eggs-on-plate-near-vase-with-flowers-6341418/
https://www.pexels.com/photo/green-indoor-potted-plant-lot-793012/
https://www.pexels.com/photo/twigs-with-blossoms-and-forsythia-with-delicate-flowers-4207569/
Leave a comment (all fields required)
Comments will be approved before showing up.