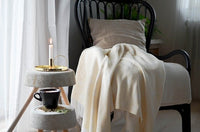 Featured image.
Alt: A windowsill with pillows and decoration.
With the stress of everyday life, we long for every bit of peace we can get, especially when it comes to our homes. Once we finish with our jobs, the school, or whatever hectic things we have lined up for the day, we want to return to an oasis where we can wind down and relax. A calm place to rest and recharge. But how do you truly make your home peaceful? We have simple tips to help you achieve this and improve your everyday life.
How to make your home peaceful
Being mindful about your living environment is one way to bring a little calm and relaxation into your house. Creating routines, making a few modest adjustments to your décor, and keeping your senses pleased may all help to improve your joy.  And now is an excellent time to consider creating a tranquil home atmosphere.
1. Declutter your home
Once you step into a home overflowing with things, some feelings of anxiety and nervousness might arise. Clutter makes a place feel cramped, disorganized, and unpleasant right away. It also provides very few opportunities for your mind and eyes to relax without being overstimulated. It's difficult to feel peaceful and relaxed when your mind and eyes don't get a chance to rest.
Begin by removing all of the clutter from the area. Eliminate whatever you don't use, need, or adore. Keep just the items that you use frequently or that you have a special connection to.
And don't forget - clutter comes in a variety of shapes and sizes,from the items occupying the shelves to the furniture you don't need, as well as decorative items. Sometimes the minimalist approach is the right way to go.
2. Make it bright
Letting plenty of natural light in is another excellent method to create a sense of openness, spaciousness, and serenity. And the good news is that doing so is as simple as opening the curtains or blinds! If the weather is beautiful outside, open your windows and let the breeze in too. It's amazing what a little fresh air and sunlight can do for a room's atmosphere.
Another method to influence the atmosphere and feel of your home is to layer lighting. In certain instances, overhead lighting is ideal, but it might feel unpleasant or too bright in others. You can layer in other sources of light to create gentler light.
Table lights, for example, are softer than ceiling lighting. Candlelight is another option for creating a cozier mood in a room. Adding dimmer switches to your various light sources may also assist in creating a more inviting and peaceful atmosphere.
3. Add greenery
Incorporating plants into your rooms is another excellent method to create a peaceful atmosphere in your house. Fresh-cut flowers, succulents, and other plants offer not only aesthetic value but also bring new fresh energy into your home. It's as though everything becomes suddenly nicer!
Caption: Nature and natural elements are inherently relaxing to our senses. 
Alt: A sunny lounge room full of plants that make a peaceful home.
We know that keeping plants alive can be challenging, especially when you're moving during the summer, in the heat. But taking them with you if planning to relocate this summer is an excellent idea because plants will instantly improve any space you put them in and make it more peaceful.
4. Focus on the scents
Having your house smell lovely is a great way to create the relaxing environment you've been looking for. For example, you can create whatever ambiance you want in minutes by using essential oils and a diffuser. A crisp, flowery, or woodsy smell can lift your spirits and take you to a peaceful spot in nature.
5. Build a personal sanctuary
Each of us is entitled to a personal space where we can sit back and relax. A place you will go to rest your mind and body - whether it's in a bathroom turned into a makeshift spa, the porch while the whole world sleeps in the early mornings, or a DIY corner for all of your projects. You may feel at ease knowing that this getaway is waiting for you whenever you need it most, even if things at home are chaotic.

Caption: Having that special place for yourself can make all the difference.
Alt: A potted plant and chair on a balcony.
6. Display art pieces
Reducing the amount of wall décor in a space is an effective method to give the room a sense of spaciousness and peace. But it doesn't mean you should have empty walls. On the contrary - displaying art pieces is something we can recommend.
You should just carefully choose what goes up on the walls. Motifs like birds and animals or nature pieces could serve this purpose excellently! However, consider size as well. A collection of smaller pieces may appear more cluttered than a single larger one.
7. Create a "no-tech" zone
Although most of us find life without technology difficult to comprehend, and most children and teens would have a nervous breakdown without their smartphones, data suggests that too much technology in the home interferes with our relationships and social lives.
To make your home peaceful, make sure you have designated unplugged areas. Lock your computers in an office or other room where you can close the door. This way, there will be no visual incentive to log on as you go by. Set aside a drawer for your phones. During dinner, ask everyone to put their phones there so you can talk to one other. You will surely see a huge difference in no time.
8. Put an accent on the coziness
A house should be a cozy, welcoming environment that always inspires you to unwind.
You can achieve this by placing artistic pillows and blankets in each bedroom and living room. It will make each room look softer, calmer, and more soothing, and you'll have the feeling that you can relax anytime you're weary or worried. This is also a quick and easy way to add pattern, color, and warmth to any room.
Caption: The more consistent the color palette is in your home, the more soothing it will seem.
Alt: Hygge cozy chair with a blanket over it.
Consider the colors you pick as well. Soft, light, neutral, and natural colors are ideal for creating tranquil, serene environments. Have this in mind when choosing the colors of the walls, floors, wall décor, materials, furniture, and so on.
In conclusion
Creating a beautiful and tranquil place in your house that makes you feel good is an excellent way to care for yourself and your loved ones. We hope the suggestions above have inspired you to take the steps and make your home peaceful and calm. Best of luck!
Meta description: With the stress of everyday life, it's important that our homes are our sanctuaries. We present you with the best, simple ways to make your home peaceful.

Images used:
https://unsplash.com/photos/u_z0X-yrJIE
https://www.pexels.com/photo/potted-plant-and-chair-on-balcony-5028853/
https://unsplash.com/photos/WWMzKq_80CI
https://pixabay.com/photos/hygge-living-room-living-room-cozy-2985636/
Leave a comment (all fields required)
Comments will be approved before showing up.