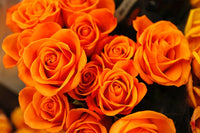 When it comes to home décor, new trends are constantly popping out. Most fade away quickly, but some stick around and become classics. One of those is using flowers as décor. No matter how much time has passed, they will still be a desired decorating style. But the important thing is knowing how to incorporate it into your home successfully. If not done correctly, it can easily fall into the tacky category and cheapen your home's look. But luckily, there are some stunning ways to use flowers in your home décor. And that will be our topic today. We will tell you how to incorporate flowers into your home to elevate the look.
Caption: Dry flowers add a touch of elegance to your home
Alt text: Dry flowers in a vase. Drying flowers is one of the easiest ways to use flowers in your home decor.
Use dry flowers
Dry flowers can be a beautiful addition to your home. You can get dried flowers or do it yourself, as it is not too complicated. You need to hang your flowers to dry somewhere dark (attic, for example) for a few weeks, and that's it. There are various ways to use dry flowers as décor. You can turn them into a delicate wreath and hang them in your living room. Then, you can also press them, put them in a glass case and hang them on a wall like a picture.
Another fun way is to take the dried petals and put them in a decorative basket on your table. And finally, you can simply put them in a vase. Dry flowers are a great touch of elegance and make your home more serene. And are easier to maintain than fresh flowers, as you don't have to water them. They can also last for almost six months.
Floral wallpaper
One of the best ways to use flowers in your home décor is through floral wallpapers. While wallpaper sometimes gets a bad rap, if done correctly, a flower wallpaper can make your home look fresh and lively. The key is in picking the right floral pattern. You shouldn't mix too many floral designs, as that can quickly come off as tasteless. Focus on bright warm colors that will make your room come alive. But be mindful that if you do a floral wallpaper, you must take it easy with the rest of the room décor. Floral wallpapers are an intense décor and don't mix well with other "loud" decoration choices. They require minimalism.
Use flowers in your home décor with a floral centerpiece
Flowers can be a great statement piece. You simply have to decide where you want to put them. Whether you put it somewhere in your living room or the middle of the dining table, a floral centerpiece will leave an impression. You can buy them in any flower shop, with options no matter your budget. But you can also do it yourself.
First, you are going to need some materials. The basic things you will need are some shears, a thorn stripper, and floral foam. And some flowers of your choice. That is an excellent opportunity to make a decoration with some sentimental value. You can use the favorite flowers of each family member. You start with a few central flowers and then add smaller ones around. It's a very simple process, and in the end, you have a beautiful floral centerpiece for your home.
Caption: One of the best ways to use flowers in your home decor is by making them float in a decorative bowl filled with water.
Alt text: Colorful flowers in a decorative bowl.
Floating flowers
This flower décor is a perfect way to add style to your bathroom. The imagery of flowers floating in the water is gorgeous. Some flowers are ideal for this, like lotus flowers and water lilies, but you can use most other flowers. They must have lovely big petals, as that adds to the beauty of this floating floral arrangement. Get a nice decorative bowl that fits the aesthetic of your bathroom. Then pick the flowers you like and put them in a water-filled bowl. You can use one big floating flower arrangement or a few smaller ones. They will add style and elegance to your bathroom and make it look more modern. It's simple yet very effective.
Decorate your windows
Flowers don't need to be used only inside your home. They can also make a great impression from the outside, specifically through window boxes. Only a few views are more beautiful than the flowers cascading down your window. The key is knowing which flowers to use. Trailing Fuschia, Ivy, Trailing Lobelia, and Petunia are some of the best flowers for this. Just pick whichever you like best. The effect will be immediate. The next time you drive to your home, you will see the beautiful flowers cascading down your window and just how incredible it looks.
Caption: Nothing beats fresh flowers in a vase
Alt text: Red flowers in a vase
Use fresh flowers
And finally. Nothing beats beautiful fresh flowers. No matter how you utilize them, they will be a wonderful addition to your home. Pick your favorite flowers, put them in a vase, and watch your home fill with beautiful scents. The best thing is, you can't go wrong with flowers. And you can never put too many of them. They will instantly make your home come alive and add some freshness. While you need to maintain fresh flowers and water them, which can sometimes be tiring if you have a home filled with flowers, it is worth it. Nothing can make your home more pleasant and inviting than flowers, especially if you are decorating a new home after the move. Flowers will give it new life and help you settle in quicker.
In conclusion
These are just some ways to use flowers in your home décor, but there are many more. As you can see, you can use fresh flowers, dry flowers, or even a flower pattern. The fun part is you discover it on your own. Try and be creative and find new ways to add flowers to your home.
Meta Description: Are you thinking of decorating your home with flowers? Read our article and learn about stunning ways to use flowers in your home décor!
Kw- use flowers in your home décor
Images used:
https://www.pexels.com/photo/bed-of-orange-petaled-flower-462402/
https://www.pexels.com/photo/dried-leaves-on-glass-vase-beside-concrete-wall-863004/
https://www.pexels.com/photo/bowl-with-flowers-and-a-burning-candle-and-an-ornamented-traditional-fabric-8819121/
https://www.pexels.com/photo/red-tulips-in-clear-glass-vase-with-water-centerpiece-near-white-curtain-858192/
Leave a comment (all fields required)
Comments will be approved before showing up.