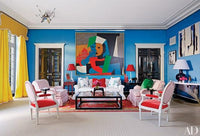 Oscar Wilde said that "mere color can speak to the soul in a thousand different ways" and it turns out that he was right. According to Behavioral Psychologists, color can impact our mood, behavior and even stress levels. So it makes sense that every home, in whichever style, can benefit from a little color love. From minuscule touches to hugesplashes, we'll show you how to incorporate color into any home. Read on for seven sure ways to integrate heavenly hues at home.
Pretty Plants
Image by: Sera of London
Green-thumbed garden-lovers: pick up your indoor shovels and rejoice! Plants are the ideal addition to any interior environment, especially where someone is reluctant to make a bolder color commitment. Promote the air quality while rejuvenating your senses with a pop of green. The color green can relieve stress and represents good luck in some cultures. If you're not rooting for green, choose colorful flowering plant instead.
Delight in the Details
Image by: Project M Plus
Accessories come in all shapes and sizes and are present even in the most minimalist home. One such fixture that can feature in any room is a vase or a colorful planter with flowers or foliage.
Did you know functional items can double as accessories? The kitchen is filled with such opportunities. Tableware and utensil design can be as fun and color-packed as you want them to be, perfect for brightening a room during meal time. On-the-counter appliances like kettles and toasters can also add wonderful aesthetic excitement to a kitchen.
Or, opt for traditional accessories in the lounge and bedroom like a mirror with a bold frame, wall clocks, colorful candles and more – the options are endless!
Artsy Artwork
Image by: Apartment Therapy
Another quick way to boost the color in your home is through artwork. We've all seen stunner gallery walls, and the leaning-against-the-wall ones are treasured in rental homes across the globe. Mix it up by using art with slight color nuances and pieces that are bold and beautiful. Create a wonder wall with collected prints, bespoke artwork or print one at home with downloadable digital art.
Tally the Tiles
Image by: Old Brand New
Colorful tiles are back, and we love it! Perfect for bathrooms and kitchens, a colorful tile with or without a motif will add a touch of whimsy and bohemian flair. For the bold at heart, incorporate your favorite color into a floor tile design for the living room or the patio. However, be sure that the color and design won't overpower the rest of the room décor before committing tile to floor.
Tactile Textiles
Image by:The Wishing Trees
Snuggling on winter nights or taking a nap on a warm summer's day, something with a textile is bound to have your back. Mix and match in the bedroom and living room with scatter cushions, luxurious throws, and rugs. Terrific area rugs can uplift an entire room through colorful design.  When adding a large rug, do make sure that it's a few inches underneath the furniture or at least 3 inches from the wall.
Fun Furniture
Image by: My Scandinavian Home
Have fun with fabulous furniture. Be daring by reupholstering a large sofa or paint a dresser in your favorite color. Scour second-hand and vintage stores for that magical mustard number eager to see modern daylight. If you prefer your furnishings to remain neutral, add some color with contemporary lighting.
It's a Paint Thing
Image by: My Scandinavian Home
The final hefty splash is with paint. Whether you do this literally or take a more conservative approach, paint can transform a room quickly and inexpensively. Paint one feature wall (or the stairs!) in a dark hue for depth and drama, or an entire room for maximum effect. If you are painting all the walls, pick a color that will complement the function of the room. Pastels are perfect for bedrooms, while brighter colors like green are excellent for a home study. Or opt for a less-is-more approach by painting a ceiling or doorframe in a bright and welcoming hue. Whichever way you choose, remember to cover all surrounding items and areas that you don't want painted before painting, or hire a professional.
The world of color is a vast and magical place; find out how to be color-wise and learn more about color psychology here.
Get a head start on your color-pop journey with our beautiful art collection and more!
Feature image by Architectural Digest
Leave a comment (all fields required)
Comments will be approved before showing up.